Best IVF Centre in Delhi
International Fertility Center (IFC) is the Best IVF centre in Delhi for multiple infertility problems. IFC center has been in service for over a decade, and we have assisted 10000+ babies to birth. We pledge "to provide at least one child per couple." We provide benchmark medical facilities of international standards, and our fertility center is equipped with state-of-ART technologies and medically advanced laboratories.
IVF Centre in Delhi
IFC is a pre-eminent choice for fertility treatment and is recognized as the best IVF centre in Delhi. We have served local and international couples and individuals to achieve parenthood. Our service is outstanding in our commitment to understanding the root of infertility before suggesting any treatment. This way, we can plan an affordable and effective treatment program for the patients.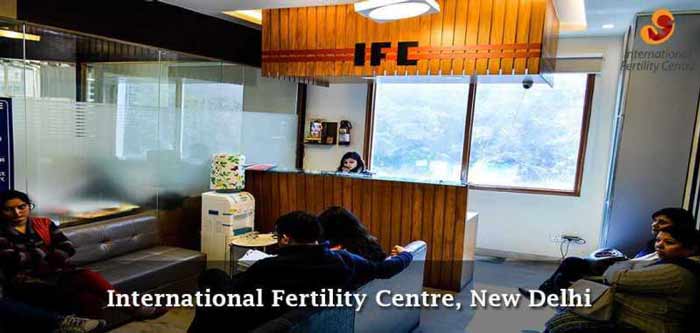 Our team is dedicated to providing tertiary-level patient care and support in reproductive health. Foremost, we have an ethical and transparent approach to providing healthcare services.
IVF Treatment at IFC in Delhi
A typical IVF cycle follows as such:
Diagnosis and Screening:
Uterine and Ovarian reserve analysis via baseline bloodwork and ultrasound
Infectious Disease tests – HIV, AIDS, TB
Spermiogram or seminogram
Based on your diagnosis of infertility, your fertility specialists will construct an effective IVF program individualistic to you.
Step-by-step IVF Cycle
Ovulation induction – personalized IVF protocols
Egg aspiration or egg collection
Sperm collection or sperm aspiration (TESA/PESA)
Sample washup and concentrating healthy gametes (sperm and eggs)
Fertilization in IVF laboratory
Embryo development and Embryo morphology
Embryo transfer
Pregnancy tests two weeks after embryo transfer – blood tests and ultrasound
Complementary ARTs to increase or improve the success rate:
ICSI
PGS
FET – Frozen embryo transfer
Blastocyst transfer
Laser-assisted hatching
Who are the Ideal candidates to receive fertility help at our clinic?
Couples trying to conceive for more than a year
Women with PCOS or other ovulatory disorders
Women with endometriosis and uterine fibroids
Older women trying for pregnancy
Individuals with Donor eggs or sperm trying to conceive
Man with abnormal sperm parameters
Man with erectile dysfunction
Couples with genetic disorders or diseases wanted to have genetically healthy children.
Couples with previous IVF cycles failure
Couples with recurrent miscarriages
The success rate of IVF treatment
The average success rate of IVF treatment worldwide is 35-45%. However, at our fertility center, the success rate is about 40-58%, which is more than the average success rate in India. Some clinics boast that their success rate is 80-90%, but realistically it isn't like that. The success rate is influenced by age, infertility factors, and the level of expertise of fertility specialists.
So, you understand it's an indefinite factor. However, Dr. Rita Bakshi and our team are incredibly skilful with ARTs; therefore, we have proudly acquired such a high success rate for IVF treatments.
IVF Treatment Cost
The IVF treatment cost at our clinic is very less as compared to  outer clinics for IVF self-cycle. Depending on the patient's infertility factor, IVF Treatment Cost In Delhi can fluctuate. For example, if IUI is effective for you, then you won't need IVF, and your treatment cost will be cheaper comparatively, but if you need IVF with ICSI, then there will be an extra cost for ICSI.
IFC offers different fertility treatment packages for patients with different infertility problems. We maintain transparency in our fee structure by omitting hidden charges. Note that the package doesn't include the cost of medications and blood tests. The consultation fee and ultrasound charges are included in the packages.
Team at International Fertility Centre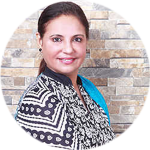 Dr. Rita Bakshi
Dr. Rita Bakshi, Senior Doctor and Chairperson of IFC, has been practicing fertility care for more than 30 years. Under her supervision, IFC has achieved excellence and an exceptional success rate for IVF treatment in Delhi, India. Dr. Bakshi received her MBBS from Lady Harding Medical College, New Delhi, in 1983. In 1987, after finishing her diploma in Obstetrician and Gynaecologist from St. Stephens Hospital, In 1990, she completed her MD (Gynae & Obs) from Safdarjung Hospital, Delhi.
Besides her strong academic qualifications, Dr. Bakshi is extensively trained in fertility and women's health and has vast professional experience in fertility and all ART treatments. Dr. Rita has set up a team of experienced and professional fertility experts, embryologists, and nurses and founded IFC to serve infertile couples in need.
Fertility Treatments at IFC
IFC provides all reproductive and fertility care at one center.
Obstetrics and Gynecology Consultation
Intrauterine Insemination (IUI)
In Vitro fertilization (IVF)
Intracytoplasmic Sperm Injection (ICSI)
Blastocyst Culture
Embryoscopy
Preimplantation genetic Screening or Diagnosis (PGS and PGD)
Laser-Assisted Hatching
Laparoscopy
Hysteroscopy
Ovulatory Disorder Treatment
Cryopreservation or Freezing
TESA and PESA
Varicocele Treatment
Egg Donor Program
Cosmetic Gynecology
Address and Landmark
International Fertility Centre
Address : H-6, Green Park (Main) New Delhi -110016 India
Enquiries : +91-95555 44421 / 22
Existing Patients : +91-95555 44423
Book Appointment : +91-95555 44424
Phone : +91-11-40666680/ 40666681
Skype Id : internationalfertilitycentre
Email : doctor@risaaivf.com
Working Hours : 10 AM – 7 PM (IST)
For inquiries about IVF or fertility treatment, contact us or visit our Center in Green park, New Delhi.