Tulip International Fertility Centre
Tulip International Fertility Centre is the leading IVF centre Haryana, where we have been creating miracles every day for over a decade. Our experienced infertility specialists can work closely with you to develop a personalized treatment plan including In vitro fertilization, egg donation, and male infertility treatments, such as ICSI or PESE/TESE.
Tulip International Fertility Centre, IVF clinic in Sonipat, provides you the most advanced and compassionate patient care to people pursuing their dream of parenthood. At our IVF centre in Sonipat, our goal is to help loving couples and individuals create a healthy family. We have a tie-up with India's leading network of IVF clinics-International Fertility Centre and our warm and welcoming staff treats each patient like family. We understand the medical, emotional, and financial impact of infertility is emotionally challenging and we are here to help every step of the way.
Our experienced doctors including Dr. Akhil Saxena and Dr. Anopama Sethi Arora have been treating couples with general infertility, polycystic ovarian syndrome (PCOS), premature ovarian failure and much more. Even couples struggling male infertility have been helped through our treatment procedures to achieve the joy of parenthood. Your appointments with us should feel like you are visiting a friend instead of a medical clinic.
We look forward to meeting you at Tulip IVF Center and welcome all people, who are facing trouble in achieving a successful pregnancy.
Team at Tulip International Fertility Centre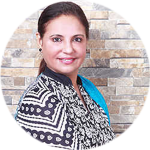 Dr. Rita Bakshi
Dr. Rita Bakshi is the founder and chairperson of International Fertility Centre, the oldest fertility clinic and one of the most renowned IVF clinics in India. She graduated from the Lady Harding Medical College, New Delhi and received her MBBS in 1983. She completed her MD (Gynae & Obs) from Safdarjung Hospital, New Delhi in 1990. Dr. Rita is specially trained in fertility and woman's health and holds Diploma in Obstetrician and Gynaecologist from St. Stephens Hospital in 1987. Her areas of expertise include IVF treatment, IUI, ICSI, Surrogacy, recurrent miscarriage, endometriosis and ovulaltory disorders and their treatments.
Dr. Akhil Saxena
Directors, M.B.B.S., M.S. (General Surgery) D.G.E (Germany), FIAGES
Consultant Urologist & Laparoscopic Surgeon
Dr. Anupama Sethi Arora
M.B.B.S., D.G.O. Dip. Adv. Lap. Gynae (France) D.A.G.E (France)
Consultant Obstetrician & Gynecologist
Infertility Specialist
Fertility Services
Confidential Counseling
IUI (Intrauterine Insemination)
IVF (In Vitro Fertilisation)
ICSI (Intra-Cytoplasmic Sperm Injection)
Blastocyst Culture
Assisted Hatching
Cryopreservation
Surgical Sperm Retrieval (TESA / PESA)
Egg Donor Program
Surrogacy
Address and Landmark
Tulip International Fertility Centre
Address :  112 – 113, T. P. Scheme, Delhi Road, Sonipat – 131001, Haryana, India
Enquiries : +91-95555 44421 / 22
Existing Patients : +91-95555 44423
Book Appointment : +91-95555 44424
Phone : +91-11-40666680/ 40666681
Skype Id :  internationalfertilitycentre
Email : mail@internationalfertilitycentre.com
Working Hours : 10 AM – 7 PM (IST)