Saarthak Bakshi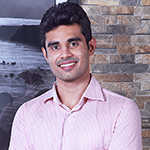 Saarthak Bakshi, Chief Executive Officer (CEO) of International Fertility Centre, is recognized as Forbes 30 under 30 ASIA, 2017 for HealthCare and Science. He is known for his persona as an engineer, an entrepreneur and a social worker. He pursued his graduation in B.Tech (Computer Science) from the renowned institute – Jaypee Institute of Information. He flourished his career by working with reputed companies – Infosys and Ernst & Young – as a Software Engineer and IT Risk and Assurance Analyst respectively. He soon realized that he has an inborn passion for entrepreneurship and went on to launch a slew of ventures including IFC.
Leadership Footprint
Co-founder of International Fertility Centre – one of the leading fertility clinics in India – at New Delhi in the year 2012 with the purpose of treating infertile patients and make their parenthood dreams come true. IFC has treated thousands of couples with the help of assisted reproductive technologies like IVF, ICSI, IUI, Egg donation and Surrogacy and is now a network of more than 10 IVF Clinics in India and abroad.
Established training arm of IFC by the name of International Institute of Reproduction & Fertility Training (IIRFT) – to deliver high-quality expertise and competitive hands-on learning to doctors, embryologists, paramedics and fertility nurses in the field of fertility. IIRFT has successfully trained over 500 candidates till now.
He is enlisted in Forbes 30 under 30 Asia, 2017 under Health Care and Science category. His contributions in improving the health care system and innovations to provide the advanced and latest treatment have been recognized by Forbes to honor him with the title.
He is the person behind EarthScientific, which has excelled in providing authentic equipments used in assisted reproduction technology. The sole objective of EarthScientific is to offer the best quality equipments to help elevate the standards of assisted reproduction technology procedures performed around the world.
Understanding the pain of Surrogates, he went on to launch Upkaar Surrogacy Welfare Trust – where a significant part of the profits of IFC is contributed for empowering surrogates affiliated with IFC. At Upkaar, surrogate mothers are given vocational trainings with placement opportunities to help them lead a better life.
With the rising trend of egg donation among young women, Saarthak Bakshi joined hands with the Seed ART Bank with a comprehensive egg donor database to offer childless couples with the healthiest egg donors. With the help of Seed ART Bank and its quality egg donors, many couples have achieved successful pregnancies.
He has held various infertility camps in Ethiopia, Uganda, Afghanistan and India to make people aware about fertility issues and how can they be treated. These camps were a huge success in spreading awareness about infertility in these under-developed countries.
He collaborated with various foreign organizations to nurture his ART labs with world-class and cutting-edge technology. The ART labs at IIRFT are well-established to gives it candidates the most ultimate training experience in assisted reproduction technologies.